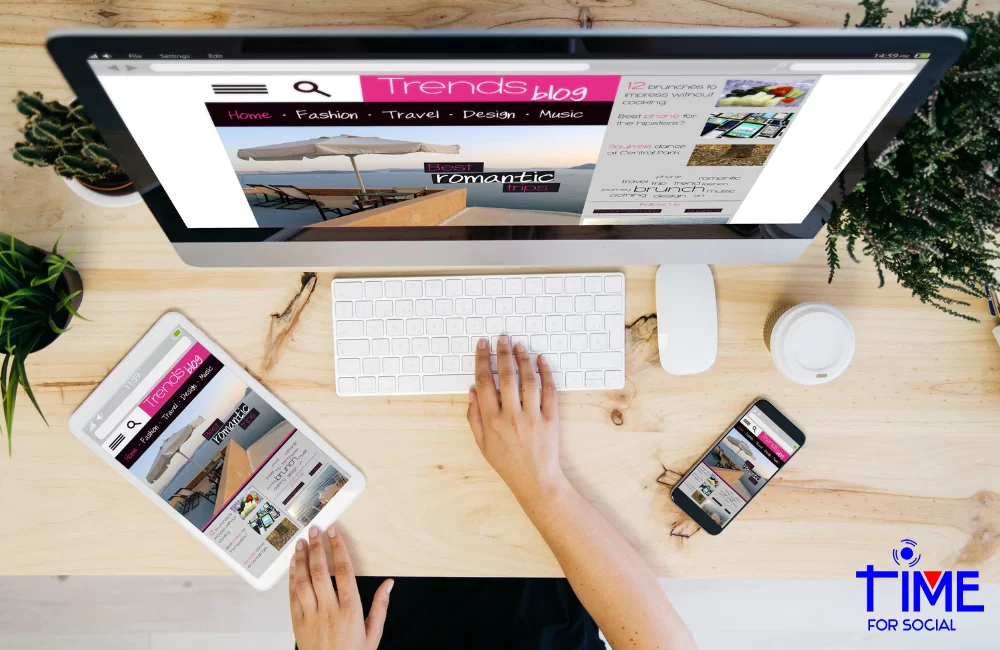 Before you start experimenting with website builders or hiring a professional, take some time to get an idea and figure out what kind of website you need. Otherwise, after a few weeks or months, if the hoped-for success does not come, additional work may need to be done, which could have been avoided.
Knowing what different types of websites differ and having a clear idea of ​​what you are trying to achieve will also help you in communicating with agencies and service providers: you can proceed more efficiently and get better results.
7 types of websites compared
A well-functioning and complete website is part of the essential equipment of any successful company. But how to choose the one that's right for us? There is no single answer to this question. It depends on what you intend to do with this site. Do you want to offer an online course? Or maybe make a name for yourself as a photographer? Or are you planning to sell jewelry or start a blog? The type of website you need changes a lot according to your needs.
Whether you decide to create your website or hire a service provider, you should think in advance about the type of website you need. However, this strategic decision is entirely up to you. We come to your aid by presenting seven types of websites for comparison.
Time for Social supports small businesses, large organizations and factories, companies, and hospitals with advice and individual support. Keep selling your products and being present online.
What types of websites are there? The most popular 7 types of websites
More than 400 new websites are launched on the web every single minute. Keep in mind that not all of them fall into the kinds we will be presenting throughout this article, particularly since these are not regularly distinguishable from each other. Nevertheless, this overview can be useful to make you understand what are the main aspects that differentiate websites from each other.
1. Company Website
Suitable for: companies, agencies, and freelancers
Purpose: to present your company and offer contact opportunities
The classic corporate website corresponds to the one that is generally associated with a website: it is a group of different pages with the primary objective of providing information.
The company website is considered to be the digital business card of a company: the company presents its services and its team and offers contact opportunities. However, websites can also contain dynamic elements, such as a news area or a blog area, whose content should be regularly updated. Comprehensive websites often integrate other kinds of websites, such as landing pages or microsites, that's why businesses can pursue different goals with a single internet presence.
Companies should implement additional measures such as search engine marketing (SEM) to make their brand or website known to the target.
If you want to create a company website yourself and have little or no programming skills, you can rely on editing tools for website building. Alternatively, you can hire an agency and let the experts in the trade create the perfect website for you, and that's exactly what Time for Social can do for you.
2. Portfolio
Suitable for: artists and creatives
Purpose: to visually present your works
Portfolio websites are optimized to present visual work appealingly. This type of website is ideal for designers, photographers, or artists.
The themes of the portfolio websites are characterized by a sober, often minimalist design, which already on the home page emphasizes the graphic elements of one's work. Unlike corporate websites, the amount of text is usually small.
A portfolio website can be easily created even by non-professionals: CMS like WordPress offers a large selection of themes, which can be easily adapted and filled with your content. The only technically difficult point is hosting. You need to choose a provider that specializes in WordPress hosting and supports a 1-click WordPress installation. Time for Social offers particularly affordable WordPress hosting packages.
If you want to create a portfolio website, you should take care to select and submit only your best work. Having a light portfolio, with few but quality jobs is preferable to an overloaded portfolio with mediocre jobs, which would take away the visibility of the best jobs.
Time for Social can do that for your business as the background expertise in the field would make it a highly recommended choice.
3. Blog / Newspaper
Suitable for: bloggers, companies, journalists, influencers
Purpose: Regular publication of editorial content for information or entertainment
An online blog or newspaper focuses on editorial content. Do you want to regularly publish Bitcoin news? Are you planning a local online newspaper? While blogs sometimes welcome readers to a static website, the home pages of online magazines usually resemble classic print magazines, directly displaying the latest content.
For a blog or an online magazine, the most important thing is to have content that is always updated and published regularly. And this is also reflected in the design of the website. Sometimes products and services are also offered.
However, maintaining a blog is a time-consuming process. Consider if you can manage your blog or online magazine yourself, or if it would be better to find a team of authors. If you want your blog to become a reliable source of information and a magnet for readers, articles should be published frequently and at regular intervals.
4. Microsite
Suitable for: companies
Purpose: informative or entertainment material concerning a specific topic or product
A microsite is the little brother of the corporate website: the informative character is the focal point. However, the microsite is limited to a few sub-pages or even just one main page. Unlike the website, which features several topics and services, the microsite usually features a concrete new product or a single clearly defined topic.
Microsites often feature unusual designs that highlight a product or topic. They rely on interaction possibilities, animations, and media diversity to create an effective user experience.
5. Landing Page
Suitable for: companies, freelancers
Purpose: customer acquisition or sales
Landing pages are one-page design websites, which inform the visitor about a specific product to motivate him to take a certain action. The page usually has a clear advertising character. Subpages are not used. Instead, landing pages resemble a detailed sales letter, which can be enhanced with videos and graphics.
At best, the user consumes the entire content of the page until he is convinced and motivated to pay for the physical or digital product or service being promoted or to enter his email address.
Landing pages are usually designed as part of online marketing campaigns: users click on an ad on Google or a social network and are redirected to the landing page.
All the information on what are the success factors to consider when creating a landing page can be found in our guide on how to create a perfect landing page.
6. E-commerce Website
Suitable for: companies
Purpose: sale of digital or physical products
Landing pages are best suited for selling single products, but anyone who wants to sell more than one product should use an e-commerce website.
In an online shop, products and their characteristics are presented clearly and simply. Navigating the menu helps users quickly find what they are looking for. If desired, you can add content such as a blog or columns to recommend customers and attract visitors from Google, but the main focus remains on the products offered.
The technical implementation of e-commerce is particularly challenging because it is necessary to map the entire ordering and payment process. Smaller stores can be set up by users themselves with the help of tools such as the Time for Social E-commerce packages.
Do you want to start selling your products online but don't know how to do it? With Time For Social, you can create your online shop Trump accuses Democrats of going 'Stone Cold Left — Venezuela on steroids!' klenprime marksans pharma share price: what's moving this pharma stocks – know all triggers here quickly and easily!
7. Web app
Suitable for: IT companies, SaaS companies
Purpose: to offer an online application
The web apps are not websites that advertise a product, but they are the same product. Whether for project management, financial administration, or travel expense accounting, more and more software does not require a download but can be used in the browser as a web app.
Of course, even a web app is partly made up of the same pages as a classic company website, to provide information on functions, advantages, and prices. But unlike a classic website with a "business card" function, in a web app, the user can use the advertised online tool directly after registration.